National Quality Policy 2018 – 2030
What is the National Quality Policy?
The National Quality Policy (NQP) is the basic government instrument that sets out the objectives and strategies of Trinidad and Tobago regarding the development and use of the Quality Infrastructure in relation to its economic and societal needs and the building of a quality culture. Internationally, the quality infrastructure is recognized as a critical support mechanism for social progress and economic development, enabling the participation of developing countries in international trade.
The NQP will provide the formal expression of the intentions and direction of the government and stakeholders regarding recognized standards and technical regulations, metrology, accreditation, conformity assessment services, and information awareness and education programmes—involved in strengthening the quality and competitiveness of the goods and services produced or provided.
How was the National Quality Policy Developed?
The NQP was developed in alignment with Trinidad and Tobago's National Development Strategy (Vision 2030) and the United Nations Sustainable Development Goals (SDGs) and is the result of a participatory multi-stakeholder process led by the Ministry of Trade and Industry (MTI) and supported by the Trinidad and Tobago Bureau of Standards (TTBS).
Why do we need a National Quality Policy?
The National Quality Policy will enhance Trinidad and Tobago's ability to penetrate world markets with products and services of high quality and, as a result, place the country in the global economic arena as a respected and highly valued trading partner and beneficiary.
Click Here to Download a pdf version of the National Quality Policy.
NQP – Quality Matters brochure
Frequently Asked Questions
For more information contact us at:
Telephone: (868) 662-8827 ext. 2532 or 2530
Fax: (868) 663-4335
Email: nqi@ttbs.org.tt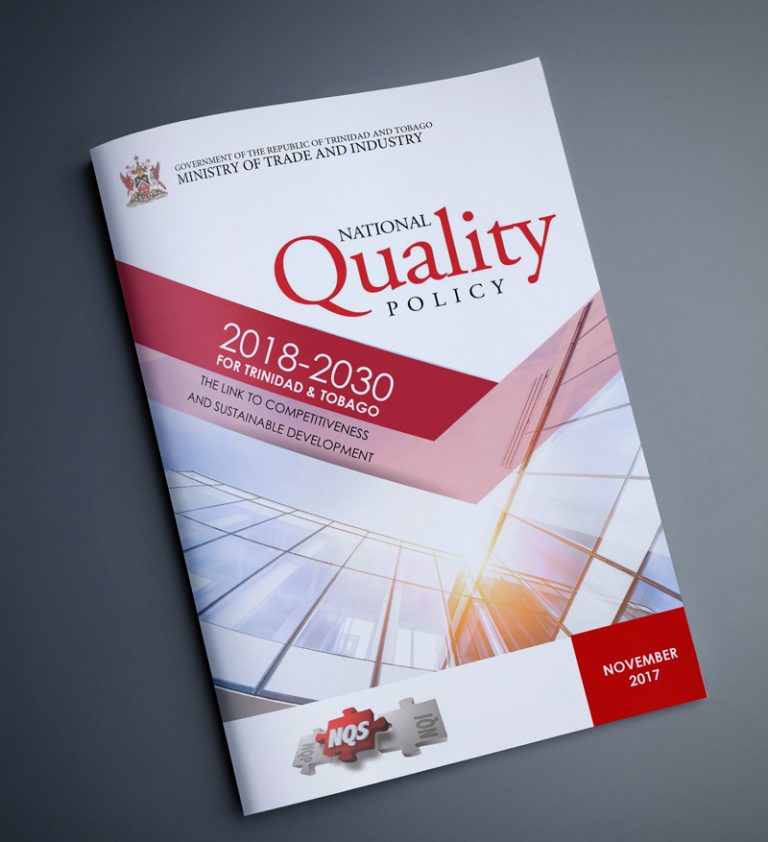 Trinidad and Tobago Bureau of Standards,
1-2 Century Drive, Trincity Industrial Estate, Macoya, Tunapuna, Trinidad and Tobago W.I,
Tel: (868) 662-8827, Fax: (868) 663-4335
Email: ttbs@ttbs.org.tt
Office of the TTBS Secretary (Main Ext: 2003)
Certification Division (Main Ext: 2221)
Implementation Division (Main Ext: 2417 / 2418 / 2419 / 2420 / 2421)
Laboratory Accreditation (Main Ext: 2248)
Laboratory Services Division (Main Ext: 2361)
Metrology Division (Main Ext: 2307)
Legal Metrology Inspectorate (Ext 2348)
Standardization Division (Main Ext: 2041 / 2042)
Standards Information Centre (Main Ext: 2033)
Human Resource Unit (Main Ext: 2021)
Operator (Main Ext: 0)
Marketing Unit (Main Ext: 2261)