We have reached full capacity for this event. If you require further information, please contact Ms. Nadita Ramachala at: 662-8827 ext 2044.
Date – 12th December, 2019
Why attend this Session? – Single-use expanded polystyrene plastic products contribute to environmental pollution both on land and in the oceans. Biodegradable and compostable packaging materials are possible alternative materials to single use expanded polystyrene.
This awareness session will provide insight into and guidance on the type of biodegradable materials available and factors to consider, including, certifications and labelling when making biodegradability and compostability claims, primarily based on ASTM and ISO Standards.
Benefits
Learn about international standards on Biodegradability and Compostability
Understand Biodegradability and Compostability claims
Gain information on internationally recognized certification marks
Target audience
Manufacturers, importers, distributors of alternatives to expanded polystyrene materials
Supermarkets, restaurants, caterers, packaging organizations
Environmental groups and Non-Governmental Organizations using and promoting biodegradable and compostable materials
Ministries and State Agencies
Cost – TTD $700.00 (VAT inclusive).
Venue – PQSL Auditorium, Trinidad and Tobago Bureau of Standards
Book your spot, contact: Damien Chapman                                                                                                     
Email: Damien.Chapman@ttbs.org.tt
Mobile: (868) 793-2898
Office: (868) 645-9068, 662-TTBS ext 2505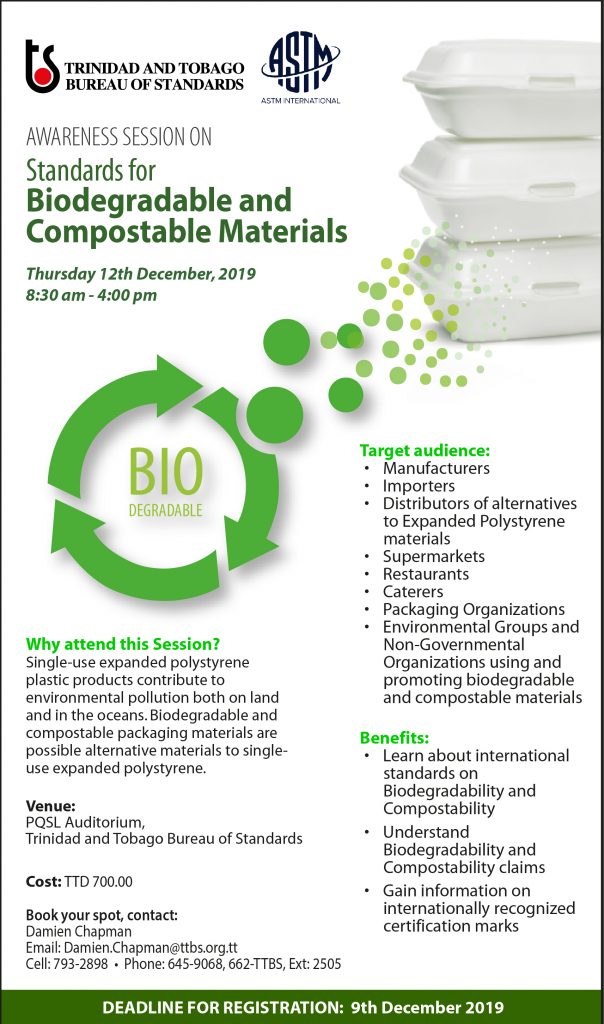 30 years industrial experience in plastics (including 25+ with bioplastics), materials (including paper, coated paper, waxed paper and molded fibre) and packaging. Expertise in many aspects of materials, packaging and product development including: sustainability testing and certification; materials & finished goods regulatory compliance; materials selection, plastics formulation and processing; and intellectual property services.
Memberships and Governance positions: ASTM D20.96 Environmentally Degradable Plastics and Biobased Products subcommittee chair and ASTM D20 Vice Chair- Products; Indiana Recycling Coalition board member; Society of Plastics Engineers (SPE) Honored Service Member and Councilor, past Society of Plastics Engineers (SPE) Thermoplastic Materials & Foams division chair and Bioplastic Materials SIG board member; previously Biodegradable Products Institute (BPI) board member and Society of Plastics Industry (SPI) Bioplastics Council committee chairs and Executive Council member.