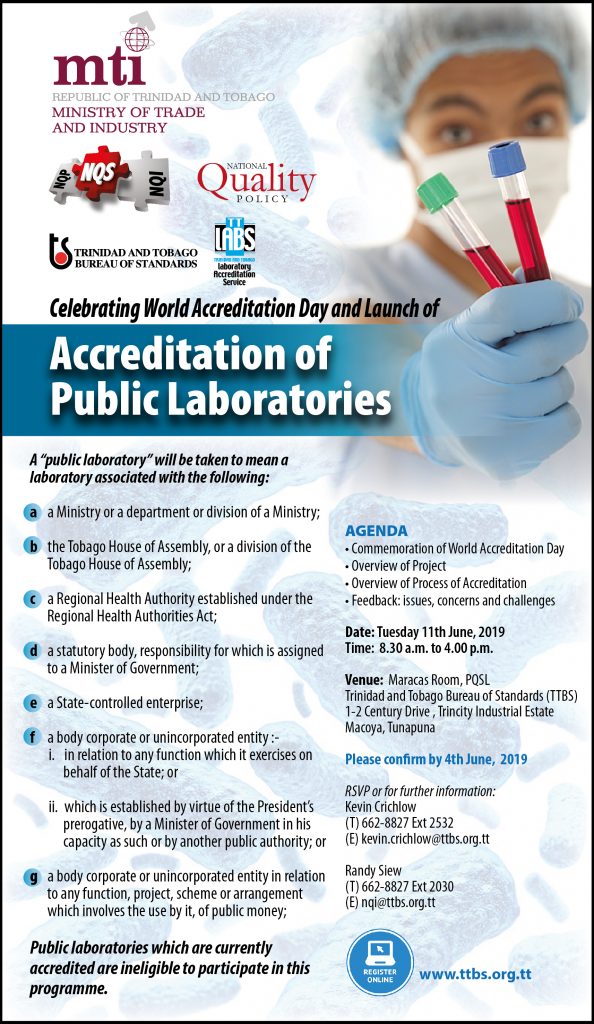 The Trinidad and Tobago Bureau of Standards (TTBS), on behalf of the Ministry of Trade and Industry (MTI), is hosting the national launch of the "Programme for the Accreditation of Public Laboratories Project". This is one of the projects identified in the Implementation Plan of the National Quality Policy 2018-2030 of Trinidad and Tobago. In commemoration of World Accreditation Day which occurs annually on 9th June, the launch will be held on Tuesday 11th June 2019 from 8:30 a.m. to 4:00 p.m. at Premier Quality Services Limited (PQSL) which is located on the premises of TTBS.
Click here to Register to attend the national launch on Tuesday 11th June 2019.
Please confirm by Tuesday 4th June 2019.
For further information contact:
Ms Janelle Teemal
Tel.: (868) 662-8827 ext. 2531
Email: janelle.teemal@ttbs.org.tt
Mr Randy Siew
Tel.: (868) 662-8827 ext. 2030
Email: nqi@ttbs.org.tt