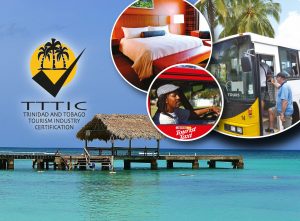 Product and service quality are critical to the reputation of any tourist destination. Tourists have become more conscientious about the tourism experiences and destinations they choose.  Each destination must strive to continually improve its value and commodities if it is to be considered a premier island destination.
As Trinidad and Tobago moves towards gaining a stronger foothold in the European market, the adoption and implementation of quality and service standards will greatly assist in demonstrating our commitment to promoting sustainable tourism, as well as our efforts to improve visitor experiences and global competitiveness.
In this regard, the Trinidad and Tobago Bureau of Standards (TTBS), in collaboration with the Tobago Tourism Agency Limited (TTAL), relaunched the Trinidad and Tobago Tourism Industry Certification (TTTIC) programme on the island of Tobago in November 2018. This was enacted via a one year Service Level Agreement (SLA) between both organizations.
The programme currently covers tour guides, tour operators, tourist taxi drivers and tourist taxi operators, accommodation providers: including, hotels, guesthouses, bed & breakfast and self-catering facilities. It provides assurance that the operators comply with the National Tourism Standards which may result in continual improvement of their business and value for their customers. The requirements of the standard include but are not limited to legal obligations, infrastructure, competence, management, quality and health and safety.
Both the TTBS and TTAL, recognize tourism stakeholders as key ambassadors, in positioning Tobago as a leading tourism destination in the southern Caribbean. TTTIC is an ideal way to showcase tourism operators that offer quality tourism products and services, to potential tourists and the world. It displays the commitment of the destination and its operators, towards improving the national tourism product offering.
TTTIC is currently implemented in Tobago only.
Further information can be attained through the Tobago Tourism Agency Limited (Tobago Tourism Authority)
via Email: destination@tobagotourism.org or call 612-8825 ext2005.